Big South Fork
---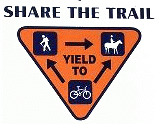 Distance: 100+ miles
Rating:easy to strenuous
Elevation: 850' to 1500'
Surface: dirt/gravel
Maps: USGS Quadrangles: Barthell SW, Honey Creek, NPS BSF map, and BSF trail maps, or Google map with BSF roads and trails or BSF mounting biking info, or various maps and books are available at the Bandy Creek headquarters.
John Muir/Grand Gap map and Collier Ridge/West Bandy/Duncan Hollow bike trails map
Access: The Bandy Creek campground and park headquarters lie west of Oneida (US 27) and east of Jamestown (US 127) off of TN 297. We have GPS waypoints (.gpx), maps, and driving directions for some of the trail heads at trail-head parking.

Description: <!img align=right src=../gifs/adeer.gif> The Big South Fork National River and Recreation Area spans more than 100,000 acres on the Cumberland Plateau. It is a multiuse area offering hiking, canoeing, hunting, rock climbing, horseback riding, and bicycling. Check with the rangers or the TWRA about deer hunts in late November and December (Unit B). Wear your orange, try not to look like a deer.

The trail systems skirt the sandstone cliffs of the Big South Fork River and descend (steeply) to its tributaries. The Bandy Creek Campground offers a pool, tent, RV, and group camping, with hot showers and stables. Cabins are available in nearby Pickett State Park. Bicycles may use the jeep roads and most of the horse trails. (The following horse trails are closed to bicycles: Cotton Patch Loop, Pilot-Wines Loop, most of North White Oak Loop, a portion of Jack's Ridge Loop, the Bandy Stables-Katie Trail connector, and the Station camp Horse Camp Connector.) The horse trails are heavily used and can be muddy and sandy. The lower elevation trails often have numerous water crossings, and some may be impassable at high water. <!img align=right height=100 src=../gifs/bsfhaz.gif>

Joe Cross and other volunteers have developed some bicycle-only trails ( Big South Fork Bike Club). See Duncan Hollow loop (2 miles, GPS track/profile) or West Bandy (3.2 miles, GPS track/profile) or Collier Ridge loop (6 miles, GPS track/profile) -- bike-only bike trails map, more info. In 2006, the 6.8 mile Grand Gap Loop hiking trail was made available to mountain bikers. Access via Alfred Smith Road off of Duncan Hollow Rd, see John Muir/Grand Gap map. In 2009, 8 miles of the John Muir trail was opened to bikes north from Grand Gap Loop at Alfred Smith Rd to Duncan Hollow Trail junction, see GPS track/elevation profile. ★ As of June, 2012, Grand Gap Loop and John Muir section are open to bikes every day of the week -- an IMBA epic ride. See Greg's GG/JM ride video, and more Grand Gap info. Check at the Bandy Creek visitor center for maps and current trail restrictions.

Other bikable trails (see area map ) include O&W railroad bed from Verdun (up to 32 miles), the O&W overlook (2.2 miles round trip), the North White Oak overlook (Gar Blevins jeep road, 7 miles), and Gernt Road (6 miles). More ambitious rides include Duncan Hollow Rd to Station Camp Creek (9 miles) (a picture (67K) of Station Camp Creek crossing) and returning by the Charit Creek Lodge trail (7.1 miles), or Station Camp East loop (13 miles), or the Hatfield Ridge loop (10 miles).

The O&W railroad bed out of Verdun (1410') is a gentle ride of 8 miles to the bridge (940') over the Big South Fork. The road follows Pine Creek and turns to gravel at 0.5 miles. A good parking place is at Toomey Road (mile 3.8, 1250') just before one of the crossings of Pine Creek. (Toomey road climbs to 1540' and joins TN 297 in 2.4 miles.) The O&W road becomes rougher (more potholes) and more scenic, and at mile 6.5 Piney Creek joins the Big South Fork as the road runs north through a wall of rock. The rider looks down on the Big South Fork and up to the sandstone cliffs above. From the O&W bridge (mile 8.1, 940'), a horse trail goes north 2.3 miles to Leatherwood Ford (900') on TN 297. The O&W road continues across the bridge and up North White Oak Creek to a wet crossing at mile 9.6 (900', avoid in high water). The railroad bed gently climbs along the creek and has some bus-sized mud holes and serveral wet creek crossings. The Coyle Branch trail (mile 11.1) climbs back up to jeep roads that lead back to Bandy Creek, or you can go further up the railbed to the Gernt Road ascent (mile 13.6), or futher still to Zenith (mile 15.5, 1060') where you have to ford the creek again. The railbed continues to follow the creek for another 8 or so miles, but the section is not maintained. Here is map of unofficial trails on Honey Creek side of the BSF. You can also hike the Honey Creek loop.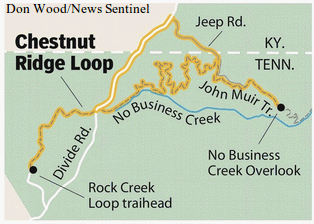 Divide Road (gravel) forms the northwest boundary of the Big South Fork and travels 36 miles into Kentucky to the Blue Heron area. There are numerous jeep roads and horse trails off of Divide Road, including rides to Hatfield Ridge, Chestnut Ridge Loop, Terry Cemetery, No Business Creek, Stoopin Oak Road, Laurel Ridge, and other rides (e.g., Sheltowee Trace) in the Daniel Boone National Forest.
The Chestnut Ridge loop is a 17-mile figure-8 loop starting at the Rock Creek Loop trailhead (cumulative climb 1100'). The route overlaps portions (8.5 miles) of the Rock Creek Trail and the John Muir hiking trail, with a spur (0.6 miles) out to the No Business Overlook (see GPS track). The route incudes about 5.1 miles of gravel including Divide Rd. See News-Sentinel trail map, and Garmin GPS track with elevation profile. Shorter loop info, and more JMT-Chestnut Ridge info.
You can view the BSF trails on Google maps.
There is a 10 mile loop around Pickett that combines pavement (TN 154) and gravel (Black House Mtn Rd). In the fall of 2013, the Ledbetter Trail in KY was open to mountain bikes.
There are lots interesting landforms in the BSF (arches, waterfalls) and in TN. More trail info at horsetrailmaps.com and Honey Creek trails and Timber Ridge horse campground and East Fork Stables. Also see National Geographic TrailSmart topo CD , trail maps on topo, GPS-ready. Marion's 2006 report Assessing and Understanding Trail Degradation: Results from Big South Fork National River and Recreational Area (pdf, 2.8 MB)
Visit Big South Fork Bike Club for more trail info and maps.
Highest point in BSF, 1742' at 36.473325,-84.824105 or 36.528245,-84.802733
---
Return to East Tennessee mountain bike rides.
© Revised 1/2/96 by Tom Dunigan