6. Melton Lake Greenway

Description: This multiuse paved greenway runs along the western shore of Melton Lake. With both flat and steep sections, it is used year-round. Ducks and geese are common sights.
Trail surface: Paved (8 to 10 ft wide)
Elevation: 800' to 900'
Difficulty: Easy to moderate
Handicap Access: Yes, except mile 2
Distance: 5.7 miles (as of 2012)
Main Entrances: Melton Lake Dr at these locations: Oak Ridge Turnpike (Elza Gate Park, mile 0.0), Oak Ridge Marina (mile 1.3), Union Valley/River Run Blvd (mile 2.25), Edgemoor Rd (mile 3.4), Old Edgemoor Rd (limited parking), and west entrance of Haw Ridge Park (mile 5.7).
Uses: Walk/jog, pets, bicycles, skates/rollerblades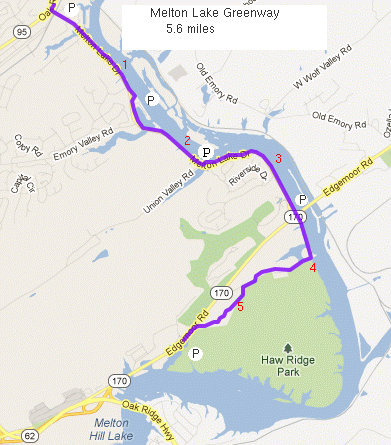 see Google map

Map legend/rules
Cumulative climb 300' (north to south), climb at mile 2.5 is 70' (8%/-13% grade), see elevation profile, see biking info. The greenway parallels Oak Ridge's renowned rowing venue and runs along the north face of Haw Ridge park (30 miles of trails).
In 2005, the city received a grant of $650,000 to extend Melton Lake Greenway south under the bridge to Old Edgemoor Road, and then down Old Edgemoor Road and Edgemoor Road to the west entrance of Haw Ridge Park. This Phase IV work extends the paved greenway by about 2.2 miles (map). Survey work began in March, 2008. Construction began in June, 2011 and was complete in the spring of 2012. This provides access to the trails of Haw Ridge Park.
The section along Haw Ridge (miles 4 to 5.7) will be closed for three weekends in the fall for deer hunts.
GreenwaysOakRidge.org
---
Greenway maps: map index North Ridge Cedar Hill Pine Grove Emory Valley Gallaher Bend
Melton Lake Big Turtle Worthington North Boundary Wildflower Haw Ridge Black Oak Ridge Google map
Greenways Oak Ridge home