GreenwaysOakRidge.org
---
Trail Maps
Reminiscent of the greenbelt tradition envisioned by the City planners, the Greenways concept foresees a system of paths, walkways, and bike trails that will eventually link Oak Ridge's centers of interest and outermost borders. Greenbelts were originally set aside as sanctuaries for wildlife and native plants, and as opportunities within the City to enjoy nature in an unspoiled setting. Greenways seek to continue that tradition. Greenways Oak Ridge has dedicated eleven greenways to date and plans to continue the network into the future. The links to the trails in the following table include maps and descriptions of Oak Ridge Greenways.
East Greenways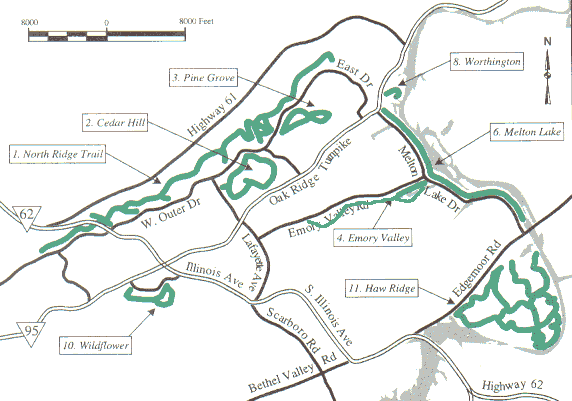 (clickable map)
map legend/rules
West Greenways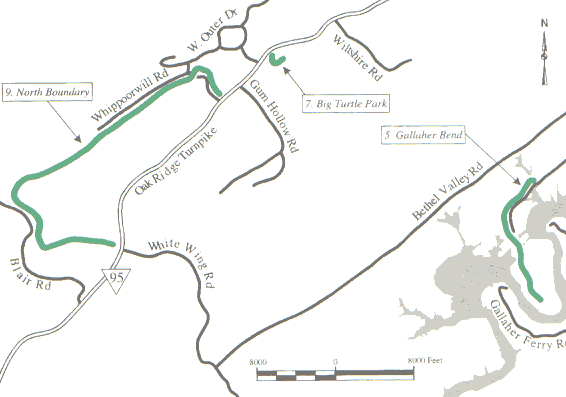 (clickable map)
map legend/rules
---
Greenway maps:
North Ridge
Cedar Hill
Pine Grove
Emory Valley
Gallaher Bend
Melton Lake
Big Turtle
Worthington
North Boundary
Wildflower
Haw Ridge
Black Oak Ridge
★ Google map/image/topo of trails and trailheads or iPhone map and trailhead/junction GPS data
Credits
These web pages were produced from the Greenways Trail Maps brochure published in early 2003 by Sig Christensen and Susan Donnelly of Greenways Oak Ridge. Maps were produced from GIS/GPS data provided by Sam Kitchings. The Greenways Oak Ridge project is a volunteer effort and works closely with the Recreation and Parks Department of the City of Oak Ridge. In 2002 the Greenways officers were:
Dan Robbins, Chairman
Roger Macklin, Vice Chairman
Lois Martin, Secretary
Peggy Mitchell, Treasurer
Hard copies of this greenways brochure are sometimes available at the Oak Ridge Public Library. Hike all the trails and earn a Secret City Trekker patch.

To learn more and volunteer, please visit the Greenways Oak Ridge home page.
---

accesses since February 15, 2003
Return to Greenways Oak Ridge