Lone Mountain
---

Distance: 13.7 miles
Time: 3 hours
Rating: Moderate to strenuous.
Elevation: 1010' to 2215' (2000' cumulative climb)
Surface: dirt
Maps: USGS topo: Camp Austin Quadrangle
trail map
google map with iphone option
topo map
3-D shaded topo map (147K)
3-D map (33K)
Trailhead parking: Google map/image/topo or MapQuest
There is also a map available from the Forestry Office at the trail head.
Restrictions: no motorized vehicles
Access: From Highway 61 west of Oliver Springs drive north on US 27 about 7 miles. Turn west at the Lone Mountain State Forest signs (Clayton Howard Rd.) and go about 0.3 miles to the Forestry headquarters. Park across the road from the headquarters (parking area closes at 4:30 pm ?). Limited parking is also available on the west side of the Forest along gravel Ervia Armes Road. We have GPS waypoints (.gpx), maps, and driving directions for some of the trail heads at trail-head parking. Here is a route that you can download to your GPS for getting you from the Forestry parking area to the Longest Mile parking area.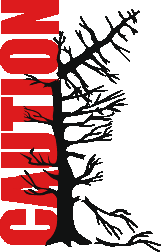 The tornado that devasted Mossy Grove passed over Lone Mountain on 11/10/02. Considerable damage was done to the south side of the mountain. Horshoe Flats has been re-opened but there is more gravel as they harvest the uprooted trees (3/04). Pine beetles are killing the pines, and hemlocks may be doomed as well. Carl Black Spur was re-opened in 2012.
Description: The trail leaves the parking area (1370') toward the south and begins a gradual climb through the hardwood forest. At mile 1.6 the trail climbs very steeply through a series of switch backs. At mile 2.1 (1960') the Longest Mile section of the trail closes the trail loop. From this junction continue climbing to 2215' at mile 2.5. Pass Rankin Spring at mile 3.25 (2190'). At mile 3.7 take the spur to Coyote Point (2115') for good views south into the Tennessee Valley. The ranger has provided picnic tables and hitching posts for your steed. Return to the main trail and begin the 3 mile descent. At mile 5.8 the trail crosses Hall Branch Creek several times before intersecting a gravel road at mile 6.8. Continue down the road to where the trail heads up bumpy Carl Black Spur (1.7 miles, 1020') through a hemlock forest devastated by the tornado. The trail crosses the gravel road again at mile 8.8 (1515') and begins the fast Longest Mile section (2.7 miles) to the junction with the trail from the parking area at mile 11.5. Turn left and begin your free-fall back to the car. See 2010 GPS track/elevation profile.
Instead of bumping up Carl Black Spur, you can cutover on Horseshoe Flats (1.3 miles) to Saw Mill, or climb the gravel road (1.5 miles), or go up the Saw Mill trail (2.1 miles). The Saw Mill trail is a nice down hill when starting from the junction of the Longest Mile and the gravel road. You can make a nice 4.1 mile loop with Carl Black Spur (500' cumulative climb).
An alternate starting point that avoids the steep climbs from the Forestry Office is to drive (3 mi.) around to the gravel road off of Bob Armes Circle (then Ervia Armes Road) and start at the Longest Mile. This reduces the ride to a 9.4 mile loop with 1200' cumulative climb, or an 8 mile loop with the Horseshoe Flats cutoff. See 2002 GPS track/elevation profile.
In 2004, a new trail, Twister Pass, was added off of Horseshoe Flats and east of Saw Mill, 1.1 miles.
There is a 1.9 mile hiking trail that climbs up to the peak of Lone Mountain (2530') from the horse/bicycle trail. See hike GPS track, 6.8 miles. Lone Mountain is one of Tennessee's prominent peaks.
The rangers of this 3600 acre state forest developed these trails in 1987 for horseback riders, but they are happy to have bicyclers and hikers (no motorized vehicles). The trail has blaze markings and signposts. If you get a chance, stop by the Forestry Office and express your appreciation. If you find downed trees or other trail problems, leave a note at the Forestry Office. There is a fire tower exhibit at the Forestry office. Also see State Forest's Lone Mountain page or Wikipedia on Lone Mountain State Forest.
Coyote Point, 1989 ( picture 54K)
Potters Falls
While you are in the area drive to nearby (2.5 miles) Potters Falls (N 36° 4.929 W 84° 34.57). For your GPS here is a waypoint and route file. (use EasyGPS). GPS coordinates to other Tennessee waterfalls and fire towers.
---
Return to East Tennessee mountain bike rides.
© Revised 9/15/01 by Tom Dunigan