!BODY bgcolor="#c0c0c0">

<!div style="background-color:gray">
<!img align=middle src="../gifs/mtnbike.gif" alt=> <!img align=middle src="../gifs/mtnbksno.gif" alt=> East Tennessee mountain bike rides
So many trails, so little time.
The following are brief descriptions (plus maps and pictures) of various East Tennessee mountain bike rides. The rides range in difficulty from a "ride in the park" to wilderness adventures. Popular mountain biking rides in the Knoxville area are Panther Creek, Norris, Lone Mountain, and Haw Ridge. Here is a map of East Tenn. indicating where some of these places are, more or less. (Or, on a 3-D topo map ). We have GPS waypoints (.gpx), maps, and driving directions for some of the trail heads at trail-head parking. Many of the East Tennessee trail descriptions include GPS tracks and elevation profiles.
<!img align=right src=../gifs/adeer.gif> These pages describe ridable trails/roads over the last dozen years or so. Some trails/roads may be closed due to Mother Nature or new access restrictions. Please obey posted signs. Be aware of hunting seasons and try not to look like a deer. Check TWRA's Fall state hunt schedule (Units A and B, see TWRA state units map) and WMA hunt schedule. Also the Oak Ridge reservation is closed for fall hunts, see the Oak Ridge Reservation hunt page.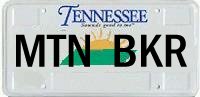 Cumberlands
Cumberland Plateau
Oak Ridge (locator map and Visitor Bureau)
Knoxville outdoorknoxville.com trails, greenways, parks
Cherokee National Forest
Great Smoky Mountains National Park
Other
Links authored by others