<!img align=middle src="../gifs/mtnbksno.gif" alt=> Friends of Haw Ridge Park

The Friends of Haw Ridge Park is a citizen-created nonprofit 501(c)(3) organization established in November, 2000 to
foster conservation and educational efforts in support of Haw Ridge Park by providing support and assistance in the preservation and protection of the many natural, cultural, and scenic features that exist within the Park
work with the City and citizens of Oak Ridge and Park users to provide quality recreation and interpretive experiences to the general public
Available on-line are:

Most of the maintenace of trails is done by volunteers. This includes clearing downed trees, keeping water off the trails, weedeating, building bridges, benches, and re-routing trails. Recent projects completed by volunteers and the Friends of Haw Ridge with financial assistance from the City of Oak Ridge and your dues include Red Shore bog bridge, Rachel's Landing adjustment, West Shore bridge, Middle Road bridges, Silo bog bridge and up-and-over bridge. Earlier projects built many of the other bridges at Pond, Low Gap, Easy, East Ridge, and East Shore. In 2013, volunteers constructed the challenging Washing Machine trail. In 2003, with the help of IMBA trail school we did a re-route of the northern sections of Rainbow. Other minor re-routes include Roller Coaster, East Shore, and Silo. Over the last 25 years, trail development includes East Shore, Silo, V, K-2, East Edge, South Shore, Isthmus/Pond, West Shore, Low Gap/Ridge, Red Shore, and Soccer. In 2013, a crowd-funded project constructed the Washing Machine downhill -- berms, bridges, and log runs, see the facebook page.

Projects under consideration for the Park include:
welcome kiosk at the west entrance (done)
new west entry with bridge (done) (partially funded by City of Oak Ridge)
water diversion on power line and Lake Road, bobcat (annual) (partially funded by City of Oak Ridge)
Bull Run Bay (or the Eldie Sea) trail (under discussion)
interconnect with Melton Lake greenway (Phase IV done 2012)
beginner loop as part of Phase IV greenway
introductory rides
trail signs (mostly done)
spring hike with a naturalist
fall mountain bike race (Hill of Truth), triathlon, NORBA race
shoreline cleanup (each spring)
designating the shoreline part of Pellissippi Blueway, water trail, designate/clear a canoe campsite with Boy Scouts
trail maintenance, erosion control (ongoing)
bridge upgrades (ongoing)
draft Haw Ridge Park management plan and MOU (mostly done)
Projects of the Friends of Haw Ridge Park are funded by membership dues, sales of 2008 bumper stickers and t-shirts (see our FaceBook page for current promotional items), and by promotional events. Funds are used for maps, signs, materials for bridges, trail tools, equipment rental, and other trail maintenance activities. The City of Oak Ridge (Parks & Recreation) has provided matching funds for the kiosk, entrance bridge and gravel, and for power-line excavator work. In 2006 thru 2011, the City helped with our weed-eating labor by mowing the power-line and Lake Road (Thanks Jon!). Labor and other tools are provided by volunteers like you! Renew your annual membership or make donations here by check or PayPal.
Friends of Haw Ridge Park is charitable organization (501 (c) (3)) so your donations are tax free. If you would like more information or would like to join or help the Friends of Haw Ridge, please contact Friends of Haw Ridge.
Haw Ridge Park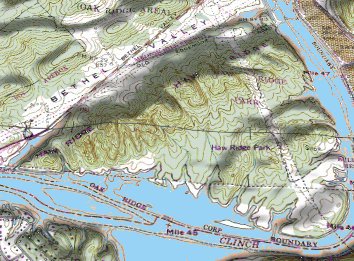 Haw Ridge Park is an Oak Ridge City Park under the jurisdiction of the Parks and Recreation Office. The 780-acre Park lies on the shore of Melton Hill Lake in the southeast corner of the City across from the Bull Run Steam Plant. The park is a wilderness area covered by hardwoods (oak, poplar, hickory, beech) and some cedar, pines, and hemlock (commone TN trees). A cedar barrens is located along the West point trail. The forest floor supports more than forty varieties of wild flower, including one endangered plant. (see Kris Light's Haw Ridge wildflowers or wildflower brochure. The Park/ridge gets its name from the haw bush and/or black haw. The Park is populated by deer, raccoon, skunk, beaver, and fox, as well as blue heron, osprey, hawk, owl, turkey and the usual assortment of East Tennessee birds. The rare tree goat has also been photographed in the park. The geology is shale and limestone. The land was donated to the City by TVA in 1972, for recreational use only. TVA still has a right-of-way through the Park for mowing under its numerous power lines. In 1987, the Park was closed to motorized vehicles. In 1993, the northeast corner of the Park was shredded by a tornado. In September, 2012, the Park was closed to horses.
The Park has over 28 miles of wooded dirt trails and is used by hikers, trail runners, canoers (5 miles of shoreline), mountain bikers, and nordic skiers. The park is also a popular orienteering and geocaching destination. (From trail construction cost estimates of about $3/ft, this represents a $400,000 resource!) Parking is available at the west end of the park, and trail heads are at the west end and along Old Edgemoor Road (see the Haw Ridge mountain biking page for maps and trail information). Volunteers perform trail maintenance and marking. The Park is closed for deer hunting one weekend in November and two weekends in December each year.


Maintenance request and projects


If you find a problem (downed tree, erosion, etc) in the Park, please fill out this form. This page also describes areas needing work. We need your help! Thanks.
Developments and Events
<! img align=right src="../gifs/trailschool_logo.jpg">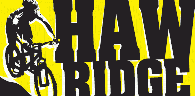 Upcoming events in 2017:
12-hour Hill of Truth race, Oct 21, race map
TWRA deer hunts, closed 3 falls weekends, Nov 4-5, 11-12, Dec 9-10

Completed in 2017:

Bell joy ride Sunday, Sep 24, 9 am more info
KTC trail race Aug 19, 5:30pm
5/7/17 AMBC trail work day, re-route pond, fix bridges
PEAK Mountain Haw Ridge trash race, 6 pm, 4/27/17
go knoxville Haw Ridge article 4/21/17
Tenderizer race, 1/11/17, 9 am
2016

TWRA deer hunts, closed on Oct 29-30, Nov 12-13, and Dec 10-11
12-hour Hill of Truth race, Oct 22
Bell Joy Ride, Oct 16, 9am
KTC trail race Aug 13, 5:30pm
Peak Mountain Sports trash race, April 14, 6pm
2/27/16 AMBC trail work day, new connector behind LDC map

2015

12-hour Hill of Truth race, Oct 24, race map and results
Rock & Root 30k, Aug 29
KTC trail race Aug 15, 5:30pm
trash race, April 2, 6pm
FoHR meeting at LDC, April 7, 7pm
PEAK trail series, Jan 24, 9am, facebook

2014

TWRA deer hunts, closed on 3 fall weekends: Nov 1-2, Nov 15-16, Dec 13-14
AMBC trail work day, Dec 7, 9am-12 upper WM, west shore, pond, middle
12-hour Hill of Truth race, Oct 25, race map, or GPS track, facebook, promo video, and race results
Root n Rock 30k 9/6/14
Missy Kane Haw Ridge hike August 15
KTC trail run August 16
FoHR meeting, Jul 27, 7 pm, Gallo Loco Mexican Restaurant, Oak Ridge
Secret City mud run June 7
April 16, trash race
trail work day, April 6, 9am, south shore re-route
FoHR meeting, March 3, 7:00pm at LDC
installed two benchs (FoHR), 4x4 trail intersection markers

2013

TWRA deer hunts, closed on 2 fall weekends: Nov 9-10, Dec 14-15
Friends of Haw Ridge meeting at LDC, 7pm, Dec 2
Washing Machine trail built and part 2 funding
FoHR meeting, LDC, 7pm, Oct 7
trail work day, west end, 8:30 am, Oct 5
KTC trail run August 10
Missy Kane hike Haw Ridge July
FoHR meeting, LDC, July 29, 7pm
TVA tower work, map posts (Eagle scout Ryan Pauly), washing machine trail fb group
Thursday Hikers, July 11
trail work day with AMBC, May 19, soccer trail re-route
KTC trail run April 21

2012

12-hour race, Oct 27, more info and race map and GPS track and photos and Thomas Gaines photo and results and video of splash-crash at Rachel's Landing
TWRA deer hunts, closed on 3 fall weekends: Nov 10-11, Dec 8-9
Friends of Haw Ridge meeting at LDC, 10/24/12 7pm
KTC trail run August 3
FoHR meeting at LDC, June 28, 7pm see skills area article
construction of phase 4 greenway, park closed to horses
TVA corridor widening
Missy Kane hike Haw Ridge April
trail workday, April 7, Briar Loop reroute, bridge stabilization
KTC trail run March 18, course map
FoHR meeting at Lincoln's in Oak Ridge, Feb 7, 7 pm

2011

TWRA deer hunts, closed on 3 fall weekends: Oct 22-23, Nov 12-13, Dec 10-11
trail workday, Dec 4, Red Shore bog bridges
12-hr race Oct 29, info/registration GPS track
Friends of Haw Ridge meeting, LDC, 7 pm, Oct 11
trail workday, 9/24, red shore bog bridge
FoHR meeting: August 11, 7 pm at LDC
trail run Aug 5, info
TWRA deer hunts, 3 weekend closures: Oct 23-24, Nov 13-14, Dec 11-12
trail workday, Nov 20, 9 am, LDC, rachel's landing adjustments
12hr Hill of Truth mountain bike race, Oct 30, 11am - 11pm, race map and GPS track
trail run Oct 31
FoHR meeting, Jul 15, 7:30 pm -- members welcome
H8R 8-hr mountain bike race, June 5
FoHR meeting, Apr 8, 7:30 pm -- members welcome
Shoreline cleanup, annual river rescue March 27, 9-1 at kiosk
Haw Ridge trail work day, Feb 28, 11-3 kiosk, west shore bridge
FoHR board meeting, Jan 14, 7 pm (tentative) -- members welcome
Haw Ridge trail work day, Feb 6

2009

12-hour Hill of Truth bike race, Oct 31, info
Fall hunt closures: Oct 24-25, Nov 14-15, Dec 5-6
FoHR meeting, LDC, 7:30 Oct 8
XTERRA 20K run, Oct 11
Trail run, Aug 7, 5:30, registration
USA Cycling MTB & TBRA bike race, July 26, register
FoHR meeting, LDC, 7:30 July 9
shoreline cleanup, Apr 4
Randy's GPS log and phots of shoreline loop ride

2008

closed Nov 1-2, 15-16, Dec 6-7 for deer hunts
trail day, Oct 5
XTERRA 20K trail run, Oct 12, info
trail run, 5:30 pm, August 1, info and results GPS course track
USAC/TBRA mountain bike race, June 15, info
bench installed, East Shore trail
shoreline cleanup, TVA river rescue, April 5, 9 am, kiosk
trail run, 8 am, April 13
SMHC hike, 9 am kiosk, January 20 and January 9 at 9 am
Tennessee Trails Association hike, February 17

2007

ultra trail run 50K, September 22, more info
wildfire 10/17/07 west point
shoreline cleanup, March 31, 9 am, kiosk
wild fire 3/14/07 east ridge
SMHC hike, Jan 21, 9 am
FOHR meeting 7:30 pm @ LDC, July 12
Shoreline cleanup, March 25, 9 am kiosk
50K run, April 22 (practice run, April 8, 8 am, kiosk)
Trail run, August 4, 5:30 pm
FOHR meeting, Oct 12, 7:30 pm @ LDC
Trail maintenace day, October 14, 8:30 am @ LDC (bring water/gloves/tools)
SORBA presentation at LDC, Sunday, October 22, 1:00 pm
Hill of Truth, 12-hour race, October 29, race info and race map and results and photos: the ascension and camp
trail maintenance day, Oct 22, 9 am @ LDC picture
News Sentinel Haw Ridge article 10/9/05
trail run, August 5, 5;30pm and race course and results
NORBA race, July 16, results
50k trail run April 23
wildflower walk, 10 til noon, April 16 (Kris Light) meet at west end kiosk
picnic tables deployed (Eagle Scout Project)
shore-line cleanup, April 2, 9am til ...
trail maintenance day, 3/5/05 9 am @ LDC (low gap work)

2004

trail maintenance day, October 16, 9 am, LDC
Oct 10, trash pickup along Old/Edgemoor Roads (Randall & his bud's)
trail run, August 6, 5:30 pm, entry form 2004 results (2003 trail race)
Mountain bike clinic July 24, free
NORBA race, July 17 (results)
TVA clearing power line right-of-ways 5/04
Oak Ridger article on Haw Ridge Park 4/26/04
wildflower walk led by Kris Light, April 24, 9 am
shoreline cleanup, April 3 (trash picture)
3/18/04 $500 in honor of Tom Dunigan, from a friend
Knox and Anderson rescue squads training exercise (1/31-2/1)
1/15/04 $500 from SCRIPPS HOWARD FOUNDATION

2003

12/2/03 IMBA awards FOHR an IMBA/REI trail toolkit ($500 value)
12-hour race, Hill of Truth, October 25 (results and lap details) another results page personal testimonial
trail maintenance day, Oct 11, 9 am, LDC
entrance gravel and bridge (funded by City of Oak Ridge and Friends of Haw Ridge Park September, 2003
triathlon Aug 17, 2003
trail runners race, August 15, 2003 and final results
IMBA trail school and pictures April 25-27, 2003 Oak Ridger article 5/14/03
shoreline cleanup, TVA River Rescue, April 5, 2003
3/14/03 -- $500 donation from HGTV
2/9/03 -- News Sentinel geocaching article
4x4 numbered marker posts (Eagle Scout project)

2002

12/28/02 -- trail maintenance with FOHR's pulaskis and McLeod's
11/18/02 -- presentation to City Council, Environmental Quality award from the city's Environmental Quality Advisory Board (EQAB) Oak Ridger article and picture
11/2/02 -- 2002 12-hr race/results/pictures
10/12/02 -- deploy Haw Ridge geocaches
10/6/02 -- trail maintenance day in Haw Ridge
6 / 23 / 02-- NORBA cross country race, contacts Kent Bailey or John Baker race course same as 2001 race, here is entry form and info and 2002 results
5/18/02 -- Eco-challenge, contact Kent Bailey
4/28/02 -- triathlon, point of contact: Joanne Grimes
4/6/02 -- lake shore cleanup, participants and the pile (200KB each, .jpg)

2001

11/3/01 -- 12-hour race
10/14/01 -- trail maintenance day
9/30/01 -- dedication of western kiosk, 1 pm Oak Ridger article (funded by City of Oak Ridge and Friends of Haw Ridge Park)
9/24/01 -- City Council presentation
9/*/01 -- clear trail under Edgemoor Bridge to Phase III of Melton Lake greenway
6/24/01 -- Haw Ridge NORBA cross-country race, results and Oak Ridger article and picture of start of race
5/26/01 -- Haw Ridge Adventure Challenge
5/19/01 -- MayFest booth
5/10/01 -- Old Edgemoor Road cleanup (community service "volunteers")
5/5/01 -- botanist-led wild-flower walk in Haw Ridge
3/30/01 -- shoreline clean up pictures (150KB each) (group 1 picture, group 2 picture, and the pile) a consultant this summer to create a recreational development plan for Haw Ridge Park.
March, 2001 Greenways Oak Ridge is doing a GPS-mapping of Haw Ridge Park trails
1/9/01 -- it seems likely the City Recreation and Parks will contract a consultant to develop a "master plan" for Haw Ridge Park in the summer of 2001.

2000 and ancient history

9/2/00 -- It was reported today that plans have been dropped to site a boat building facility in Haw Ridge Park -- details.
A soccer complex is slowly being developed in the fields between the western trailhead and Old Edgemoor Rd. This may eventually provide better parking, restrooms, and beginner trails for mountain bikers.
In 2001, Phase III of the Melton Lake Greenway (hopefully) will be extended under Edgemoor bridge on the old road bed along the lake to the end of Old Edgemoor Road in Haw Ridge Park.
October, 1999. TVA graded the power line and west over Red Hill and out lake road to the western tip to bring in a crane to replace wooden towers. In March of 2000, TVA cleaned up mudholes and added "water dams" to power line hill (Hill of Truth).
The City considered developing Haw Ridge Park, but as of 11/98 nothing is going to happen in the near term -- no interest, no money. Vist here to learn more. In the summer of 2001, the City was to again try to develop a Master Development Plan for Haw Ridge Park, but City Council grew tired of "studies."
1993 tornado NE sector
1987 closed to motorized vehicles
1972 TVA donated land to City of Oak Ridge for recreational use only
1942, farmers evicted for the new "secret city" -- legend has it, the Haw Ridge farmer (silo) had been previously evicted by TVA from property near Lake City in 1933 for the construction of Norris Lake.
Current Oak Ridge weather and recent hourly data

Related information

Haw Ridge Park mountain bike and hiking maps and trail info
Haw Ridge Park Canoe Trail and Pellissippi blueway
Geology of Haw Ridge Park
East Tennessee mountain bike trails
Oak Ridge Recreation and Parks office and Oak Ridge Visitor Bureau
Oak Ridge Greenways
Tennessee matching grants TEA-21
Tennessee Citizens for Wilderness Planning TCWP
NPS rivers, trails and conservation assistance program
The Trust for Public Land
Sierra Club
East Tennessee wildflowers
Appalachian Mountain Bike Club page and Matt Stegal's forum
Tennessee mountain biking alliance blog and links
North Chickamauga Creek Conservancy 501c3, greenways, events
other Friends of the Park Scott's Gulf or Montpelier or Canonsburg or Panther Creek and various state parks
Maps and GPS data for Tennessee landforms arches, waterfalls, balds, craters
Visit the Friends of Haw Ridge Park on Facebook or twitter or join the Friends of Haw Ridge Park e-group: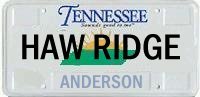 ---

© Tom Dunigan TNlandforms.US
accesses since Jan 1, 2002