! m.php?wpt=nnn>
Tennessee Landforms -- waterfalls
WGS84
35.730200
-85.387900
35° 43.812'N
85° 23.274'W
35° 43' 48.7"N
85° 23' 16.4"W
16S 645794E 3955222N
convert to NAD27
Wheeler Falls 25'
Waypoint: VBF009 35.730200,-85.387900
County: VanBuren landforms of VanBuren county
Locale: state park
popup list of nearby landforms (mileage, bearing)

MAPS
Select one of the following maps to display this waypoint (WGS84).

GPS

Remarks:

Reference & photo: Dwight Haston

Wet-weather cascade named for the Burdin Wheeler family who lived there in 1855-1930. Their plantation was swept away by the great flood of 1929. Their family cemetery and buildings were wiped away without a trace. The Cascade Falls drops 120 feet in a 75 foot space. The drop of the falls is only 25'. Wheeler had a whiskey still at the bottom of the falls. Nearby is Medley Arch.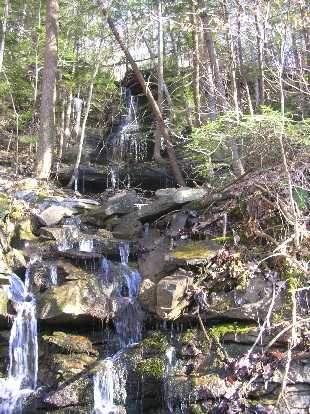 Chuck Sutherland photo also look for Wheeler Falls in album
---
Tennessee landforms home arches waterfalls rocks peaks balds sinks lakes regions county
GSMNP landforms (TN/NC) BSF landforms (TN/KY) or nearby lookout towers

© Tom Dunigan