! m.php?wpt=nnn>
Tennessee Landforms -- arches and natural bridges
WGS84
35.936700
-83.686300
35° 56.202'N
83° 41.178'W
35° 56' 12.1"N
83° 41' 10.7"W
17S 257669E 3980263N
convert to NAD27
Seven Islands Arches 4x2
Waypoint: SVA004 35.936700,-83.686300
County: Sevier landforms of Sevier county
NABSQNO 17S-257669-3980263
popup list of nearby landforms (mileage, bearing)

MAPS
Select one of the following maps to display this waypoint (WGS84).

GPS

Remarks:

A pair of small arches viewable by canoe. Another smaller window 100' downstream. If French Broad is high, these arches are submerged.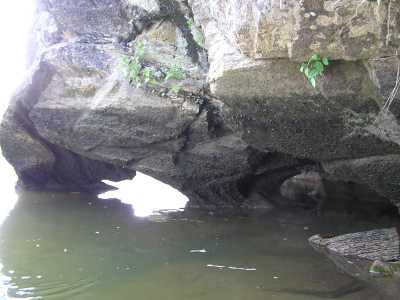 ---
Tennessee landforms home arches waterfalls rocks peaks balds sinks lakes regions county
GSMNP landforms (TN/NC) BSF landforms (TN/KY) or nearby lookout towers

© Tom Dunigan