<! space over dynamic stuff with table >

home waterfalls arches rocks peaks balds sinks lakes county


349 arches on Google map
| | | | |
| --- | --- | --- | --- |
| Waypoint | Arch | County | Locale |
Click on arch name above for maps/pictures etc.
Waypoints: tnarches.gpx or tnarches.mxf
Arches sorted by NABSQNO west to east
Arches by county
This list includes arches, natural bridges, and other interesting rocks with holes. Interior dimensions are in feet (width x height). There may be more than one arch at a location. Some locations (e.g., Twin Arches, Sewanee Arch, and Lilly Pt. Arch also have rock tunnels). There are of course
more Big South Fork arches
in Kentucky.
Some of these arches are on private property, get permission first. Others are diffcult to access because they are off-trail. Corrections and additions are welcome.
The table above corrects a few errors in Corgan/Parks "Natural Bridges of Tennessee" (1979). Big Laurel Creek Arch and Crawford Arch are actually southwest of Crawford rather than northeast as indicated by Corgan/Parks [John Burns]. The Lick Hollow Arch is "Big Laurel"-- doesn't seem right to call it Big Laurel any more since it's not in that watershed.
There are several rumored arches in Tennessee. Help us locate them!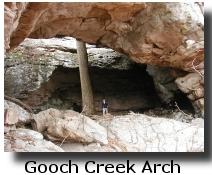 Related info:
Tennessee landforms home waterfalls arches rocks peaks balds sinks lakes regions county
GSMNP landforms (TN/NC) BSF landforms (TN/KY)

© Tom Dunigan
Revised Tue, 30 Jan 2018 04:26:28 -0700