! m.php?wpt=nnn>
Great Smoky Mountains National Park Landforms
WGS84
35.564400
-83.714100
35° 33.864'N
83° 42.846'W
35° 33' 51.8"N
83° 42' 50.8"W
17S 254016E 3939026N
convert to NAD27
Rocky Top
Waypoint: BTR001 35.564400,-83.714100
Locale: Blount
popup list of nearby landforms/campsites (mileage, bearing)

MAPS
Select one of the following maps to display this waypoint (WGS84).

GPS

Remarks:

Rocky Top Tennessee ... sing along with UT band! The waypoint is for the Rocky Top designated on USGS topo, some suggest it is the next peak at 5485'.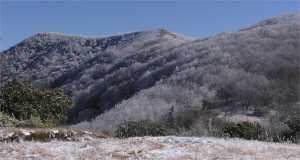 ---
GSMNP landforms and campsites and trails (TN/NC)

AT shelters BSF landforms (TN/KY)
Tennessee landforms home arches waterfalls rocks peaks balds sinkholes lakes regions

© Tom Dunigan