! m.php?wpt=nnn>
Great Smoky Mountains National Park Landforms
WGS84
35.555660
-83.982540
35° 33.34'N
83° 58.952'W
35° 33' 20.4"N
83° 58' 57.1"W
17S 229651E 3938760N
convert to NAD27
Garner Falls 25'
Waypoint: BTF027 35.555660,-83.982540
Locale: Blount
popup list of nearby landforms/campsites (mileage, bearing)

MAPS
Select one of the following maps to display this waypoint (WGS84).

GPS

Remarks:

A 25' cascade is located about 1 mile upstream on Panther Creek, off-trail. See Garner 1900 black & white photo Unless you're in a boat, you'll need to bushwhack over the ridge to get to Panther Creek. All off-trail along remnants of old roadbed (logging & slate mining), see 1931 Park map Also Anchor Arch and Panther Creek Falls are further upstream.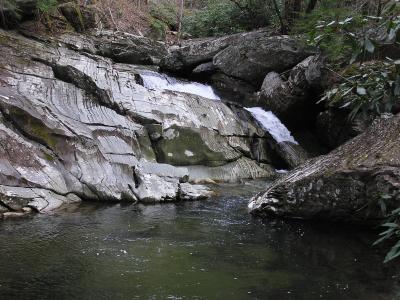 ---
GSMNP landforms and campsites and trails (TN/NC)

AT shelters BSF landforms (TN/KY)
Tennessee landforms home arches waterfalls rocks peaks balds sinkholes lakes regions

© Tom Dunigan