! m.php?wpt=nnn>
Tennessee lookout towers
WGS84
35.8121
-83.6669
35° 48.726'N
83° 40.014'W
35° 48' 43.6"N
83° 40' 0.8"W
17S 259042E 3966391N
convert to NAD27
Bluff Mountain
Waypoint: SVT006 35.8121,-83.6669
County: Sevier
Elevation: 3069'
Info: FB2630 2-1 standing
popup list of nearby towers (mileage, bearing) or nearby landforms

MAPS
Select one of the following maps to display this waypoint (WGS84).

GPS

Remarks: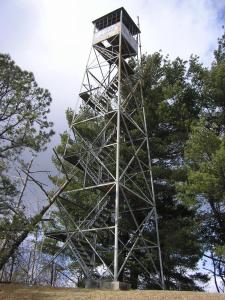 Also known as Greentop, see Ducth Roth 1940 black & white Is it the same Bluff Mountain tower? There used to be one in VA.
---
Tennessee lookout towers


BSF landforms (TN/KY) GSMNP landforms (TN/NC)
Tennessee landforms home arches waterfalls rocks peaks balds sinks lakes regions county

© Tom Dunigan