Laurel-Snow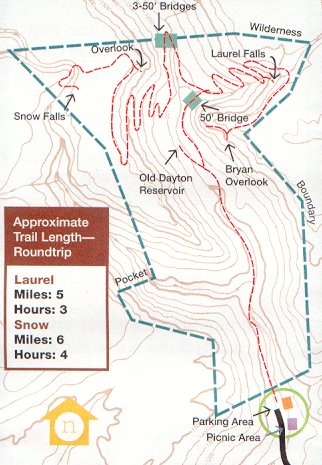 Distance: Roundtrip(miles): Laurel(5), Snow(6)
Difficulty: moderate
Maps: (trailhead) maps or Google directions and CT trail map
Two waterfalls are the namesake of this 710-acre wilderness. Snow Falls drops 12', and Laurel Falls plunges 80'. If you visit both falls, you'll climb 900', twice. The trail systems are now part of the Cumberland Trail.
There is a large natural bridge (called Gooch Creek Arch ) along the upper bluff line a mile up Paine Creek on the west side of the creek (off-trail). It is on Bowaters land but not in the wilderness area. Bowater has been asked to include the arch in the wilderness area.
More info at TN state natural area and GPS trip report.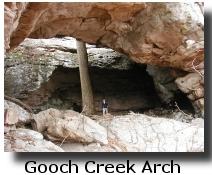 ---
Return to pocket wildernesses or Google wildernesses map