Haw Ridge NORBA Race July 16, 2005
Race results

The 3rd annual East Tennessee Mountain Bike Classic is July 16 and 17. Cross-country mountain bike race is at Haw Ridge on July 16. Registration opens at 7:30 am.

There will NOT be a mountain cross race at Big Foot Park (revised 7/15/05). On July 17 there will be mountain bike time trial (3.5 miles) at Camp Montvale. Registration opens at 7:30, race begins at 9 am.
Here are details and entry form (pdf) page1 and page2 6/29/05

2005 Haw Ridge cross country race course map 8.5 miles, cumulative climb 700' Revised 5/25/05
Beginners 1 lap (9 am), experts 3 laps (10 am), sport/women/juniors 2 laps (10:15 am).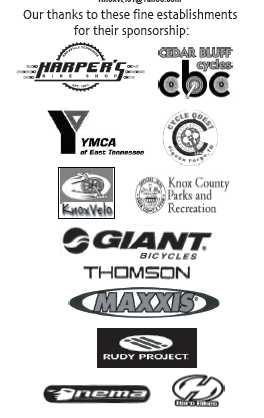 Race course description 5/25/04 MILE narrative 0.00 start at staging area east of LDC on Old Edgemoor Rd start west on Old Edgemoor Rd 0.34 left into woods on to Saddle Trail pass post 15 1.16 right on Middle Rd (post 9) 1.4 left on Lake Rd (post 8) 1.6 right on new shoreline trail 2.0 new picnic tables :-) 2.1 right on Red Hill Trail over swamp 2.16 right on new trail after swamp 2.46 right 2.5 right on Briar Loop 2.71 right on new connector 2.86 right on road bed 2.95 right on Easy Trail 3.42 South Shore (post 5) 4.23 right on Pond Trail over Troll Bridge and isthmus 4.83 right at post 12 4.88 left up to silo 5.56 right on powerline 5.68 right at post 3 6.17 left at 4-way toward powerline 6.26 right on powerline 6.32 right into woods 6.37 left on Rainbow (post 2) 6.7 right on East Ridge 6.85 left up Skinny D (Mer) 7.18 right 7.29 right down East Ridge 7.61 East Edge 8.23 left on Old Edgemoor 8.5 end
Directions to Life Development Center:
From I-40 Take Pellissippi Parkway North toward Oak Ridge through Solway and over Clinch River. Take first exit on right after crossing river- Edgemoor Drive and proceed for approx. 1 mile. Turn right on old road across from Centennial Golf Course and proceed approx. 1 mile to Life Development Center on right. See Mapquest map.
---
Return to Haw Ridge page or