! m.php?wpt=nnn>
Tennessee Landforms
WGS84
36.300500
-83.857200
36° 18.03'N
83° 51.432'W
36° 18' 1.8"N
83° 51' 25.9"W
17S 243436E 4021068N
convert to NAD27
Norris igneous rock
Waypoint: UNX001 36.300500,-83.857200
County: Union landforms of Union county
Locale: Norris Lake
popup list of nearby landforms (mileage, bearing)

MAPS
Select one of the following maps to display this waypoint (WGS84).

GPS

Remarks: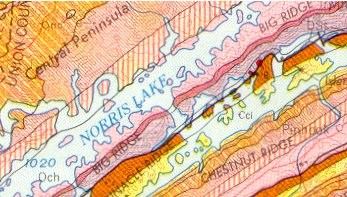 The red indicates the location of igneous rock (mica-peridotite). When Norris Lake is at full pool, much of the formation is submerged. (Norris current lake level) One of two igneous formations in TN, neither are visually significant.
More detailed map from Journal of Geology 1944 or superimposed on Google map and summary
---
Tennessee landforms home arches waterfalls rocks peaks balds sinks lakes regions county
GSMNP landforms (TN/NC) BSF landforms (TN/KY) or nearby lookout towers

© Tom Dunigan