! m.php?wpt=nnn>
Tennessee Landforms
WGS84
35.840400
-84.918500
35° 50.424'N
84° 55.11'W
35° 50' 25.4"N
84° 55' 6.6"W
16S 687991E 3968247N
convert to NAD27
Grassy Cove
Waypoint: CUX001 35.840400,-84.918500
County: Cumberland landforms of Cumberland county
Locale: BIG sinkhole
popup list of nearby landforms (mileage, bearing)

MAPS
Select one of the following maps to display this waypoint (WGS84).

GPS

Remarks:

A National Natural Landmark, one of the larger sinkholes in the US -- 5 square miles. See wikipedia or more info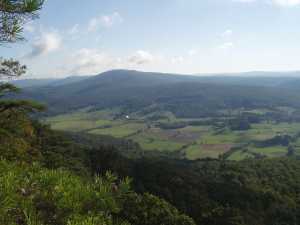 View from the Cumberland Trail.
From the digital analysis of TN sinkholes
Area: 13.6 km2
Perimeter: 38.9 km
Depth: 42.7 m
Volume: 37736946 m3
Low: 465.9m (1528') at 35.855972,-84.921713
High: 508.2 m
An interior path is nearly 5 miles long.
The waters from Grassy Cove resurge at Head of Sequatchie Spring in Devilstep Hollow (35.792854,-85.007616) at an elevation of 1075'. Near Cave Spring (35.795917,-85.008431) is a 50' sinkhole.
---
Tennessee landforms home arches waterfalls rocks peaks balds sinks lakes regions county
GSMNP landforms (TN/NC) BSF landforms (TN/KY) or nearby lookout towers

© Tom Dunigan