! m.php?wpt=nnn>
Great Smoky Mountains National Park Campsites
WGS84
35.478300
-83.741300
35° 28.698'N
83° 44.478'W
35° 28' 41.9"N
83° 44' 28.7"W
17S 251285E 3929542N
convert to NAD27
POSSUM HOLLOW BC88
Waypoint: BC088 35.478300,-83.741300
Locale: Hazel Creek Lakeshore
Elevation: 1950'


reservation and fee required


GSMNP camping info permits, fees, reservations etc.
popup list of nearby landforms/campsites (mileage, bearing)

MAPS
Select one of the following maps to display this waypoint (WGS84).

GPS

Remarks:

This is the new BC88, the older closed BC88 was on Pinnacle Creek which is no longer maintained. This site is on the new section of Lakeshore trail between 90 and 86 along Shehan Branch, 1.4 miles from junction with Hazel Creek trail. This site is not shown yet (2007) on park maps, but if it were, it would be about here: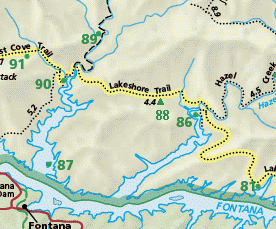 Or select Lake Shore Trail on our Google map.
---
GSMNP landforms and campsites and trails (TN/NC)

AT shelters BSF landforms (TN/KY)
Tennessee landforms home arches waterfalls rocks peaks balds sinkholes lakes regions

© Tom Dunigan