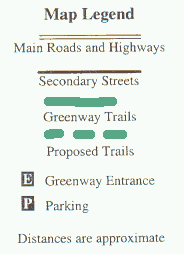 Trail Rules and Maps Legend
Greenway Rules
Observe the rules that are posted at greenway entrances.
Be aware that trail hazards may exist.
Travel on the right side of the trail.
Pedestrians and handicapped persons have the right of way.
Pets must be kept on leashes.
Enjoy the trail and respect the rights of others.
Report trail damage or unsafe conditions to the City of Oak Ridge Recreations and Parks Department, 865-425-3450.