Geology of Haw Ridge Park
Haw Ridge is part of East Tennessee's valley and ridge topography. The region is characterized by elongated ridges running in a NE-SW direction. The ridges were formed during a mountain building episode about 250 million years ago. The tops of ridges in Haw Ridge Park reach 1157' (high point at Post 14 36.00213 -84.17472 based on TN LiDAR elevation data). The full pool level of Melton lake is 795'. A thrust fault runs along the northwest base of Haw Ridge where the older rocks were pushed up and over the younger rock formations. The strata are angled up in a SE to NW direction and are particularly evident in the northwest corner of Haw Ridge park, where the underlying limestone (dolomite) is exposed.

The figure illustrates the major geologic formations of Haw Ridge. The lower southern part of the peninsula is shale (and red clay) of the Conasauga group (Ccl). The southeastern face of the ridge is part of the Rome Formation (Cr), shale and sandstone. The northwest face sits atop the limestone of the Chickamauga Group (Och). The northern section of the V trail exposes these latter two formations.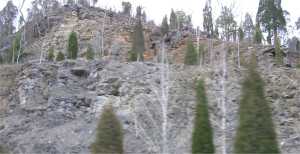 upper shales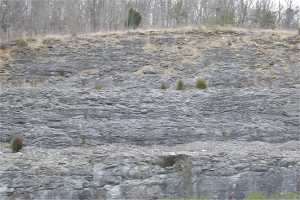 lower dolomite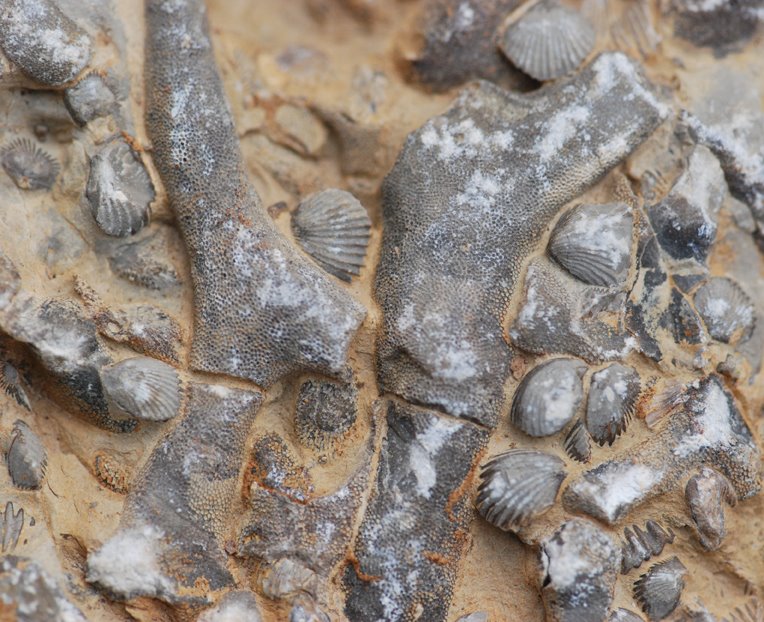 In the limestone on the north face of the ridge are two sinkholes, topo sinkhole and small sinkhole, and a 2'-diameter x 3' deep pit. Also in the limestone outcroppings there are various fossils of ancient sea animals (gastropods, brachiopods). See Kris Lights photos (toward bottom of list) and here

Related information
Haw Ridge Park mountain biking (maps and trail info)
Haw Ridge Park Canoe Trail and Pellissippi Blueway
Haw Ridge Park geocaches
Friends of Haw Ridge
Tennessee geology
Anderson County sinkholes
ETGS field trip Geology of Oak Ridge Reservation
Kris Light's Geology and Topography of Tennessee
Tennessee landforms TNlandforms.US
---
Tom Dunigan TNlandforms.US